Lighting design students illuminate architecture of Lincoln Park church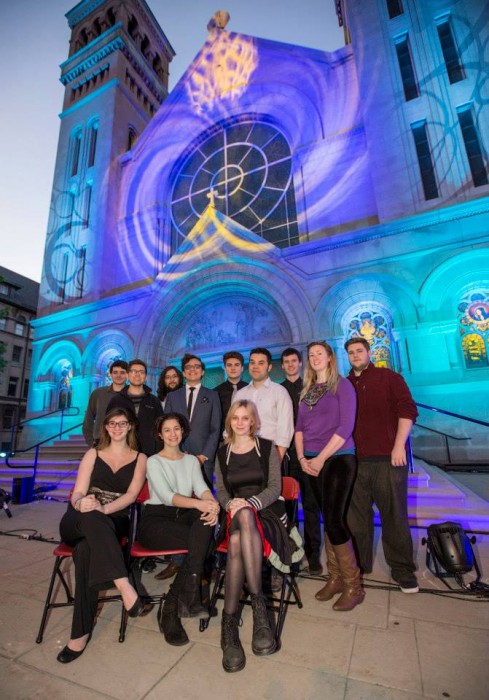 CHICAGO — When the sun goes down, Chicago's beautiful architecture doesn't disappear into the dark. Instead, lighting designers use technology and vision to showcase the drama of buildings at night.

Students from The Theatre School at DePaul University will illuminate the St. Vincent de Paul Parish Church, 1010 W. Webster Ave., using color, projections and LED fixtures. Weather permitting, the 30-minute displays will be held May 20-22 at 9 p.m., with an opening reception May 20 at 8:30 p.m. The Lincoln Park events are free and open to the public.

Celebrating art and light
"This project empowers our lighting designers and technicians to explore applications of their training in areas outside the world of the theatre," said John Culbert, dean of The Theatre School. "It's important for them to explore the many opportunities made possible by their artistry and technical expertise."

Students have created designs with guidance from renowned lighting designer Paul Gregory, who was trained at the Goodman School of Drama (now The Theatre School at DePaul University). Teams will envelop the façade of the church using moving and static images inspired by artists Leonid Afremov, AJ LaGasse, Vincent van Gogh, and Mary-Anne Papanek Miller, professor and chair of art, media and design at DePaul. The students have crafted each display to interpret the artist's unique sensibilities into the world of lighting design.

"Students have worked hard all year to develop these exciting presentations with the guidance of Paul Gregory, a very talented and engaging alum," said Chris Binder, head of lighting design at The Theatre School. "We hope that everyone who sees the presentations will walk away with a better idea of what we do and big smiles on their faces."

Designer paints 'pictures with light'
Gregory and his firm Focus Lighting highlight and reveal architecture by "painting pictures with light," from hotels in Dubai to classic buildings in New York. He has led similar public lighting projects in Bochum, Germany, and at University of North Carolina School of the Arts.

Gregory's designs reflect his belief that a sense of drama and theatre is essential in successful architectural showmanship. According to Gregory, his primary goal is to ensure that a patron's initial impression of a space or façade is as stunning and memorable as the moment the curtain rises on a Broadway stage.

Throughout the years, Gregory has collaborated with top architects and interior designers, maximizing the beauty and design integrity in the spaces he accentuates with light. His firm is internationally regarded as a leader in light design. He has received numerous awards, including multiple Lumen and IALD Awards, and Lighting Dimensions magazine's "Lighting Designer of the Year" award.

Theatre School alumnus Chris Prezas is providing the equipment for this project. Prezas is owner of Protolight, Inc., and works with theatres, churches and production companies throughout the U.S.

The Theatre School at DePaul University continues its mission to train the next generation of theatre artists in all disciplines, supported by a world-class faculty and staff. Public programming serves as an extension of the conservatory classrooms and design/technical labs—engaging audiences to experience the work of tomorrow's designers, directors, actors, dramaturgs, and theatre professionals. Learn more at http://theatre.depaul.edu.