Pathport Octo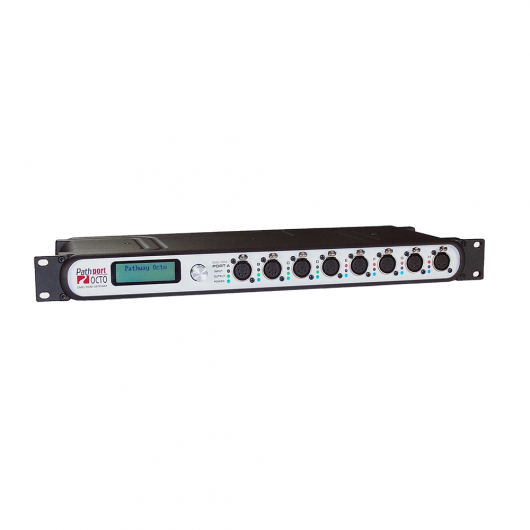 PRODUCT DESCRIPTION 
Eight inputs, eight outputs – or any combination in between, the Octo provides all the features and flexibility Pathports are renowned for, at our lowest cost-per-port.
Status LEDs provide instant confirmation of port direction and activity.  The LCD display offers further diagnostics and a basic configuration interface.  Most users will not need a computer to set up the Octo.  Full configuration, for multi-node installations, is easily done using Pathport Manager 5.
Standard operating features include crossfade between sources, configure DMX speed and signal loss behavior port-by-port, and multi-protocol support.  Even automatically merge different DMX-over-Ethernet protocols together.
Available in our new, ruggedized aluminum housing, with either front or rear connectors.  An adaptor kit is available to readily convert the rear terminal strips to an IDC connector for use with Cat5 building wire.
PATHFINDER LR/MR USERS:  The Octo is well-suited for upgrading Pathfinder installations to an Ethernet-enabled system.  We also have an adaptor kit that allows retaining all existing DMX wiring.  Simply unplug the LR or MR modules, swap in the Octos, and replug.  Simple, fast and very cost effective.
Features
eight ports, individually configurable as inputs or outputs
DMX routing on a universe or channel-by-channel basis
each output can merge and/or prioritize up to eight input sources on a channel-by-channel basis
front panel display provides diagnostics and basic configuration
full configuration and showfile management including saving with Pathport Manager 5
Supports the E1.31 Streaming ACN standard (Net3) as well as the ArtNet, Pathport and Shownet protocols
Models
6401       Eight-port node with rear XLR five-pin female connectors
6402       Eight-port node with rear Phoenix-style terminal strip connectors
6403       Eight-port node with front XLR five-pin female connectors
A special order model with front and rear connectors is available, intended for Pathfinder systems requiring the direct pass-through of signal.
Adaptor kits for Cat5 building wire or for reuse of existing terminal strip termination of exisiting building wire are also available.