EOS Programming Wing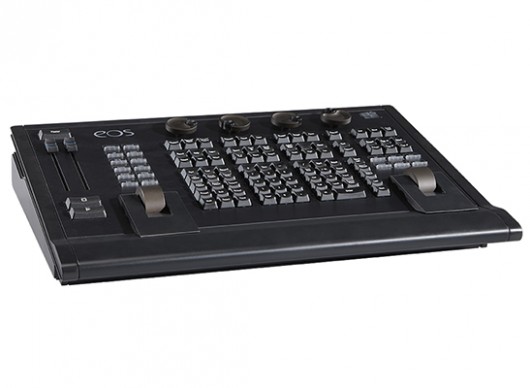 Spread your programming Wing! When the fast-paced production world calls for hands-on control, the Eos® Programming Wing provides a portable home-base for the programmer on the move. The wing uses the familiar Gio® and Gio @5 keyboard layout, so you can get to work immediately – no need to hunt for keys. With the Programming Wing, you get the freedom of mobile programming without missing out on control features. Each wing includes playback controls, four parameter encoders, level and rate controls as well as DMX512-A/RDM outputs. It is compact enough move from room to room in a venue or to take on the road with your ETCnomad™ or ETCnomad Puck™.
The Eos Programming Wing is not just for lighting nomads. Wing are VESA-mountable for temporary or permanent installation backstage, in a rack, or on a tech table. Simply connect your wing to a compatible device to create a remote programming station anywhere in your venue.
Product features
Compatible with ETCnomad and ETCnomad Puck mini controllers, Ion® Xe and Eos RPUs, RVI and RVI3*
Full main playback controls, fader controls, level and rate wheels
Complete backlit programming keypad from Gio and Gio @5
Four standard rotary parameter encoders
Four DMX512-A/RDM outputs, Remote Trigger and Worklight connection
Ships with required external power supply. The wing will not function when connected by USB alone.
* Important notes: RPUs and RVIs must be Windows 7-based to use with the Programming Wing. They are not compatible with Windows XP devices. To support the programming wing, ETCnomad must be used on a PC with Windows 7 or higher, or a Mac with OSX 10.11 (El Capitan) or later. The Eos Programming wing cannot be used with any Eos family control device with a dedicated facepanel.