EOS Motorized Fader Wing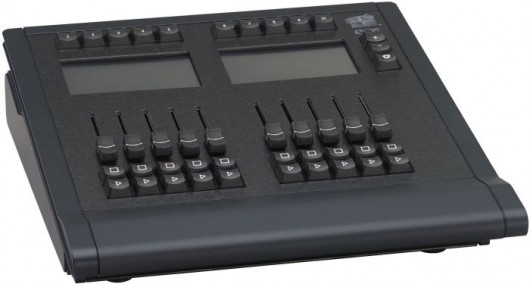 Whether you're expanding the capabilities of your Eos® family console or building a portable system on the road, Eos Motorized Fader Wings give you the control you need for dynamic, on-the-fly programming.
Unlike traditional faders, motorized faders speed up the programmer's workflow by automatically setting themselves to reflect the current fader page and – for controls requiring such behavior – presetting to center positions. Available with either 10 or 20 60mm motorized faders, the wings pack 100 pages of playback control into a small, modular package. Each set of 5 faders comes with its own set of control buttons and a 4.3-inch, full-color, high-resolution LCD display to monitor paging, configuration, and content/playback states.
The wings can be used to extend the virtual and physical controls for Eos Ti®, Gio® or Gio @5 consoles, or to add motorized fader control to Ion® Xe consoles, Remote Video Interfaces, Eos/Ion Xe Remote Processors, or ETCnomad™ and ETCnomad Puck lighting systems. Up to three wings can be connected to any compatible device*, allowing users to customize the perfect system for any show or event.
Programming on the go? Combine the Motorized Fader Wings with an Eos Programming Wing and an ETCnomad system for a comprehensive, portable workspace.
*Please note that Motorized Fader Wings are only compatible with systems running Windows 7 or higher or Mac El Capitan (OS 10.11). These wings are not compatible with any hardware running Windows XP, nor are they compatible with the Element console.