Gio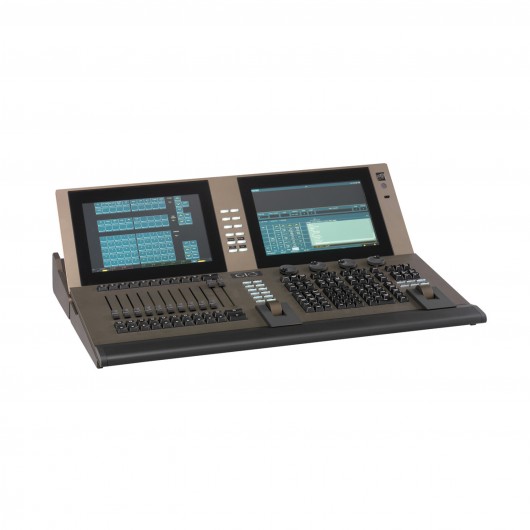 Need an energetic desk for a large touring show with a complex rig? Looking for a board that saves space in control rooms without scrimping on power? Want a desk compact enough to carry from the control booth to the tech table every day? ETC's Gio® is an on-the-go road warrior in a tidy footprint that can handle shows of any size with ease. Boasting the programming capacity of the Eos Titanium (Eos Ti™) desk, Gio is ready to hit the road.
Gio has a fast, accessible control surface, with an easy-to-navigate backlit keypad. It includes two integral, articulating multi-touch displays and supports up to three external monitors, all of which can also be multi-touch.
Gio can integrate into an Eos Ti, Eos® or Ion® system with ease, acting as a primary, backup or client console in combination with the rest of the family. All of the accessories available for Ti, Eos and Ion service Gio as well. And the keypad layout is virtually identical to Ti, making moving between platforms a snap.
Product Features
From 2,048 to 32,768 outputs with no co-processing.
Dedicated master-playback fader pair
10 definable motorized faders, with 30 pages of control
8 user-definable buttons
Four pageable haptic encoders
Two integral articulating 12.1″ LCD multi-touch displays.
Supports 3 external high resolution Display Port monitors; can be single- or multi-touch
Three user-definable workspaces per monitor, each with discrete split-screen controls and frame management. Additionally, single or multiple-screen snapshots allow instant reconfiguration.
Custom-design your control interface using Magic Sheets, with topographical or abstract layouts. Full interaction with the command line allows command instructions – from the simplest and most immediate to the most complex – accessed from a mouse or single- or multi-touch displays.
Configure and program a pixel-map layout, using integral or custom-designed content.
Device discovery and troubleshooting via RDM
ETC Sensor® CEM+, CEM3™ and FDX dimmer feedback and controls
ETCNet3™ (ACN- based), ETCNet2™, Artnet and Avab® UPD protocol output
Backlit keyboard
Multiple MIDI and SMPTE Inputs
OSC and UDP Transmit and Receive
Client/server networking and synchronized backup
Client and Offline programming on PC (Windows 7 or 8) and native on Macintosh (Intel only, OS X), via Nomad™
Data-laundering from Obsession™, Express™, Expression®, Emphasis®, Congo®, Cobalt™, Transtechnik NT, Avab VLC, Grand MA1, Grand MA2 and Strand 500/300 series show files.
12 discrete online users with partitioned control