Ion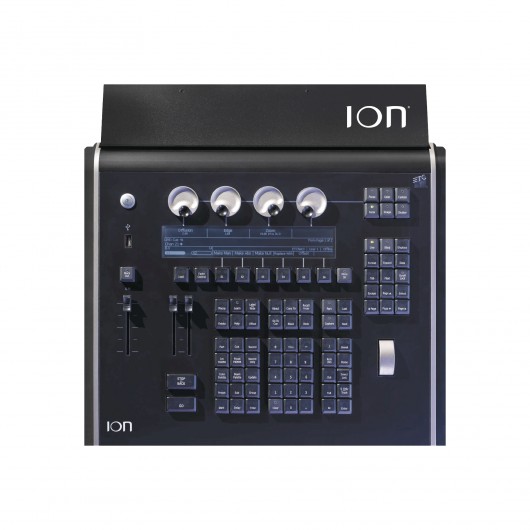 This product has been discontinued. Please see the Ion Xe for ETC's latest generation.
Ion sports a generous programming keypad, four dedicated encoders for non-intensity parameter control, a grand master and blackout button, as well as a master split fader. For more hands-on control, Ion hosts up to six USB fader wings – the 1×20, 2×10 and 2×20 – for a total of 300 additional mapped submasters or 200 cue lists with paging controls. The desk can support one or two external high-resolution Windows® 7-compatible monitors that can also be touch- or multi-touch screens.
Ion starts at 1,024 outputs and can expand to 6,144 outputs, upgradeable in increments of 512 outputs. Each of these versions supports 16,000 channels, which can be numbered from 1 to 99,999.
A networked Ion system supports up to four discrete users on multiple control surfaces. System devices include a combination of desks, Remote Processor Units (RPU), ETCnomad™ and ETCnomad Puck™, for synchronized backup or stand-alone lighting applications. Clients can include Net3™ Remote Video Interfaces (RVI or RVI3), ETCnomad Puck and ETCnomad. Remote control is also provided with the Net3 Radio Focus Remote (RFR) or iRFR or aRFR apps for mobile devices.
Use Ion in a stand-alone system or as a remote programming station for an Eos Ti or Gio system. When Ion is used as a client in an Eos, Eos Ti or Gio system, it supports the full output of that host system.
Product Features
Dedicated master playback fader pair
Dedicated grand master and blackout switch
Four pageable encoders
Channel summary or table views, user configurable in live/blind
Blind spreadsheet views
Three user-definable workspaces per monitor, each with discrete split-screen controls and frame management. Additionally, single- or multiple-screen snapshots allow instant reconfiguration.
Custom-design your control interface using Magic Sheets, with topographical or abstract layouts. Full interaction with the command line allows command instructions – from the simplest and most immediate to the most complex – accessed from a mouse or single- or multi-touch displays.
Configure and program a pixel-map layout, using integral or custom-designed content.
Device discovery and troubleshooting via RDM
ETC Sensor® CEM+, CEM3™ and FDX dimmer feedback and controls
ETCNet3™ (ACN- based), ETCNet2™, Artnet and Avab® UPD protocol output
Multiple MIDI and SMPTE Inputs
Client/server networking and synchronized backup
Client and Offline programming on PC (Windows 7 or 8) and native on Macintosh (Intel only, OS X), via ETCnomad™.
Data-laundering from Obsession™, Express™, Expression®, Emphasis®, Congo®, Cobalt™, Transtechnik NT, Avab VLC, Grand MA1, Grand MA2 and Strand 500/300 series show files.
4 discrete online users with partitioned control