M32 Digital Console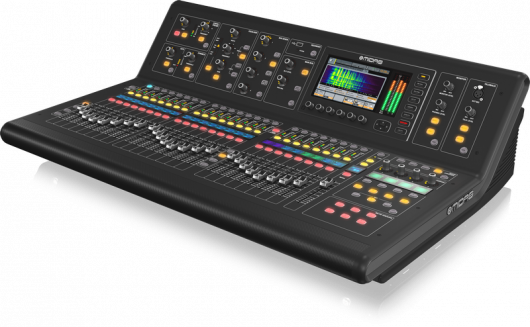 Midas' goal for the M32 was to combine the best of classic British console designs with advanced modern technology to completely redefine what a medium-format live console can offer. They began the industrial design process by drawing inspiration from a somewhat unexpected source – the luxury and high-performance car industry.
Why High-Performance Cars? Simply because the design teams at Aston Martin, Bentley, Rolls Royce, and other leading manufacturers are skilled at introducing innovative technological advancements while simultaneously maintaining the feel, essence, and intangible qualities of their cherished brands.
The Landmark in Console History. A close look at M32 reveals that the styling is completely new in every sense of the word. Rajesh Kutty's automotive-inspired design elements mesh perfectly with a recognizable MIDAS signature, setting the M32 apart from any other console. Its beautifully streamlined and elegant form factor completely revolutionises the experience of live mixing.
The MIDAS M32 construction is equally impressive, and is designed to offer you years of reliable performance while withstanding the demanding environment of live performance venues. M32 employs a predominantly space-frame construction, with parts of the sub-frame consisting of durable and lightweight carbon fiber and aluminium. Multiple alloys have been employed throughout to guarantee maximum component efficiency and an improved performance-to-weight ratio.
Product Features:
Live performance and studio recording digital console with up to 40 simultaneous input channels
32 award-winning Midas microphone preamplifiers
25 time-aligned and phase-coherent mix buses
AES50 networking allows up to 96 inputs and 96 outputs
192 kHz ADC and DAC converters for outstanding audio performance
High-performance carbon fiber, aluminium and high-impact steel structure
40 bit floating point digital signal processing
8 DCA and 6 mute groups
8 stereo signal processing effects engines
25 Midas PRO motorized 100 mm faders
Daylight viewable 7" full color TFT display screen
32 x 32 channel USB 2.0 audio interface
DAW remote control emulations of Mackie Control and HUI protocols
Optional wireless remote control with Midas Apps for iPhone and iPad
Auto-ranging universal switch-mode power supply
Designed and engineered in the U.K.