Fresnel LED Pendant House Light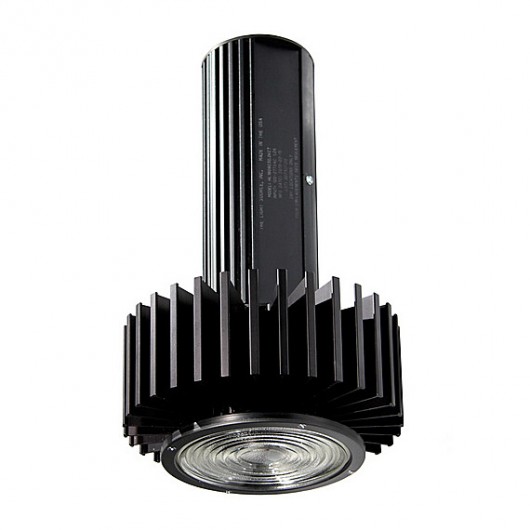 The Light Source HL Series 6" Fresnel LED pendant is perfect for applications requiring up to 10,674 Lumens with excellent dimming, tight beam control, and a high quality of light. The luminaire provides the look and feel of a natural, single source incandescent light, as well as excellent LED performance and longevity. It is a great choice for atriums, auditoriums, churches, museums, schools, studios, theatres and similar locations.
STANDARD LED MODULE:
Based on Cree's product testing, The Light Source, Inc.'s HL Series fixture's standard LED module offers over 100,000 hours of life operating from 80 to 150 input Watts. The individual LED's operate close to half of their maximum drive current even when the HL series fixture is driven at 150 Watts. The low drive current increases the LED brightness and life. Cree LED's have a pleasing full spectrum light with all the visible colors represented in the fixture's spectral output. The 60 individual LED's are carefully factory selected to maintain minimal color variance between LED modules. The white LED's are available in color temperatures of: 2700K, 3000K, 3500K, 4000K, and 5000K. The standard LED module has a typical CRI of 82. The LED module is factory built on a copper PCBfor maximum thermal and optical performance. Every LED module is tested by thermal imaging to verify all electrical and thermal bonding connections.  LED color bins used in each LED module are recorded with the fixture serial number. No appreciable IR or UV is produced by the LED module. Extreme heat and cold ambient temperatures do not adversely affect the LEDoutput. The LED module is replaceable utilizing normal hand tools.
OPTICAL:
Optical systems are available in 78, 65, 52, 44, 36, 30, 25, and 20 degree beam angles. Sixty tightly clustered Cree LED's and a 6" tempered borosilicate Fresnel lens combine to provide a single source look that completely emulates an incandescent source. Efficient use of the lumens generated by the LED cluster is accomplished by directing the LED output to the task area. An additional condenser lens is utilized to maximize the lumen output on the 52 degree and tighter beam spreads.
WARRANTY:
10 year parts replacement on complete LED fixture and electronics. Simply ship the LED fixture to the factory prepaid. The LED fixture will be repaired or replaced at the factory's discretion and returned freight prepaid. Fixture repair parts may also be sent for qualified repairs onsite. Damage from improper wiring, installation, and lightning are excluded from warranty repair, but we will repair, if possible, for a reasonable charge.
Dimensions:
9.25″ diameter heatsink
16″ overall fixture height
Weight: 14 pounds