DataTrack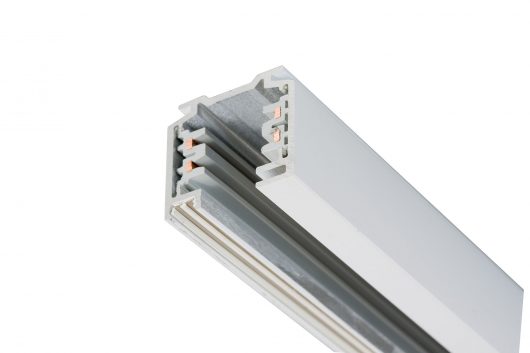 Switched and dimmed lighting on one track.
Layer your lighting. ETC's DataTrack® features two separate neutrals that can both be dimmed circuits, two hot circuits or one of each. That means that you can install both Source Four Mini™ fixtures and Selador Desire® D22 luminaires onto the same DataTrack to achieve a hybrid-lighting tag team with the advanced optics and smooth beam of conventional lighting and the x7 color and intensity that only ETC LEDs can produce.
The DataTrack is an ETC-quality tool that can hold up to 22 pounds of weight per foot when fully supported. It is available with 1.5-, three-, five-, eight- and 12-amp current-limiting breakers located directly at the track. It comes in four-, eight- and 12-foot sections, and can also be cut to any custom length in the field.
And when your installation needs more lumens, the DataTrack Backbone accessory is ready. The Backbone's rugged aluminum extrusion adds additional strength and stability, allowing for full-sized, high-output fixtures to be installed. It's perfect for high-bay applications where you want minimal visual impact that delivers maximum light.
With an array of adapters, feeds, end caps, couplers, hanging apparatuses and power/data-feed apparatuses, there's a perfect DataTrack option for any of your architectural-lighting projects.
Product Features
Two-circuit, separate neutral
Current-limiting option
DMX/RDM inside
Holds up to 22lbs/ft when fully supported
Can be cut in the field
Numerous mounting options
Choice of left or right ground and inside or outside ground for corners
Available in black, white or silver