Mosaic Show Controller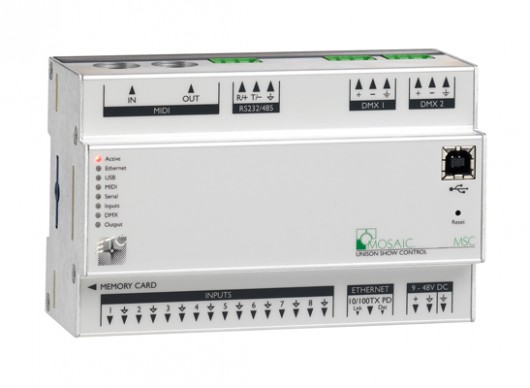 These 'instant-on' compact controllers run your sophisticated shows reliably and precisely, time after time. The Mosaic Show Controllers support DMX512 and DMX-Over-Ethernet protocols to LED fixtures, conventional dimmable fixtures and automated lights. MSC controllers offer up to 2048 channels of control from a single controller. You can choose to output DMX512 directly to your devices or send the data across your network using DMX-over-Ethernet protocols: streaming ACN (sACN), Philips KiNet™, ArtNet™, or Pathway XDMX™.
Each MSC has the same extensive range of external triggering interfaces, including Ethernet, RS232/485 Serial, DMX, MIDI, and tri-mode contact inputs. The built-in real-time clock triggers precise timed events, including 'sunrise' and 'sunset' astronomical cues. Additional triggering interfaces are supported by optional Remote Devices (MRIO's) connected to the Mosaic Show Controller using a Power over Ethernet network.
Put your control wherever you need it
Whether in themed environments, art installations, fountains, museum exhibits — or scattered throughout a venue — Mosaic Controllers handle it all. Multiple MSCs can be used together for larger installations and synchronized automatically over Ethernet.
Hardcore hardware for your software artistry
Mosaic Show Controllers feature QuickChange , where invaluable show data is stored on removable flash memory, which can be transferred to another MSC if needed. The MosaicRealEngine  drives your Mosaic Designer software™-created show flawlessly in real time. For LiveControl functionality or show upload, MSCs accept either Ethernet or USB connections from the Mosaic Designer software running on your PC. MSCs also feature DesignerAccess , an internal Web server with active pages — providing status, configuration information, remote monitoring, and remote show uploads.