Paradigm Architectural Control Processor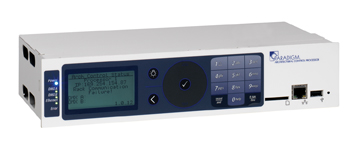 Performance, reliability and ease of use
Built from the ground up with performance, reliability and ease of use in mind, the powerful Paradigm Architectural Control Processor module contains state-of-the-art electronics and is packed with input and output ports. The familiar and easy-to-navigate interface has a large graphic and text display.
The Paradigm Processor is environmentally smart, too. It incorporates energy monitoring options, including energy monitoring and logging, historical reporting, power cost calculations and Demand Response.
Designed to keep the lights on in your facility – even in critical emergency situations – the Paradigm processor uses a robust embedded-software platform, scalable internal solid-state storage, and a design that allows modules to be swapped out quickly and easily in the field. The Paradigm processor uses solid-state components, with no fans, disk drives, or moving parts, for die-hard 24/7/365 operation.
The Paradigm Processor works with Unison® Dimming enclosures (DRd) or Control enclosures (ERn) for the most powerful architectural control ETC offers (and more than you'll expect).