Paradigm Light Sensor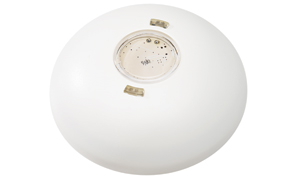 Having the lights at full in an already well-lit area means wasted energy and bigger electrical bills. Unison Paradigm Light Sensors are the sensible way to solve that problem and provide lower energy expenditures in your lighting system. The sensors tap into Paradigm's advanced daylight harvesting capabilities, harnessing an area's available natural light and reducing the output of light fixtures.
The Paradigm Light Sensors have a neutral look that easily blends into their surroundings. They can be mounted to a variety of junction boxes or even to ceiling tiles using a wire tie that installs without a back box.
The sensors are ready to go in their standard form, or you can detach the sensor's RemoLux™ head to use as a remote device up to 1,000 feet away from the main controller station. It is perfect for atriums and other spaces with high ceilings – just place the sensor where it's convenient and affix the head wherever you want with the standard half-inch connector. With an IP65 rating for all-weather and wet-location use, the head can even be installed outdoors.
In DuaLux™ mode, two heads can also be connected to a single controller station. The controller automatically averages the light values from each head, reporting a single value back to Paradigm. One of the heads could be used locally and the other remotely up to 1000 feet, or both heads can be remoted up to 1000 feet total, extending the reach of a Paradigm Light Sensor even further.
Paradigm Light Sensors provide simple controls on their face, including a service button and a configuration button. More control can be accessed remotely via LightDesigner software, when you use the sensors as part of a larger Paradigm system. They offer automatic light-value averaging, and can also provide simple light detection for on/off functionality. The sensors work with a LinkConnect bus.
Product Features 
Sensor Controller with or without integrated Light Sensor
RemoLux: Light Sensor can be mounted within controller housing or remotely

Remote sensors connect using two #16AWG wires
Filler included for remote head applications

DuaLux: Supports up to two sensors to average light levels in large areas

1 to 64,000 lux range
Sensitivity automatically adjusts based on current reading

Single Light Sensor for indoor, outdoor and atrium use
LinkConnect-powered; no AUX required
Each controller counts as one station (remote heads do not)
Configurable via LightDesigner
Available in white and black
Can be mounted to any standard electrical box, ceiling or ceiling tile
UL and cUL Listed, CE Marked