Coffee, Cocktails & Controls: World's largest Starbucks opens in Chicago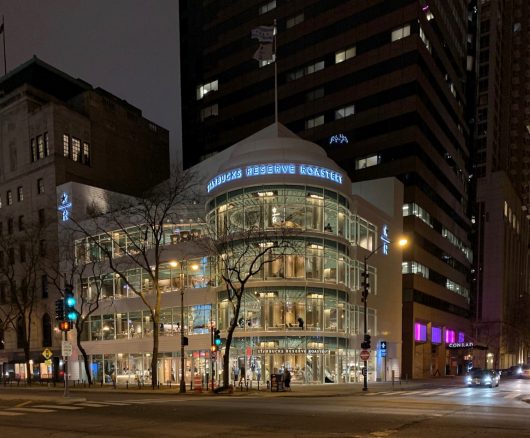 Protolight's team of engineers and technicians installed, addressed, and programmed the location's massive lighting control system.
The Starbucks Reserve Roastery Chicago opened to the public in November 2019 on the iconic Magnificent Mile. Boasting the title of the "world's largest Starbucks", the new retail/coffee destination spans 5 floors and nearly 40,000 square feet.
Once inside, visitors will find not only a plethora of options to feed their coffee addiction featuring seven brewing methods, but also custom blends that have been roasted on-site, mixologist-curated cocktails, handmade liquid nitrogen gelato, and more.
Bringing to life the lighting design by Niteo Lighting, the Protolight team installed the store's massive lighting control system. The ETC Paradigm DMX and Dali control system manages the thousands of LED fixtures located throughout the building, spanning more than 70 Dali loops.
As part of the construction team, our technicians spent countless nights addressing, programming, troubleshooting, and perfecting the store's lighting controls working closely with other trades to coordinate work and meet deadlines.
One of the key features of the store is a five-story golden "cask", which can be seen from the street and is met immediately upon entering. Starbucks roasting staff can initiate a "bean drop" through the cask offering guests a visual and auditory experience as beans are prepared for roasting and transported around the store. Protolight programmed the custom lighting show that accompanies each roasting event, featuring ETC Source Fours.
The Starbucks Reserve Roastery Chicago offers a unique, immersive experience for coffee lovers seven days a week and has become a destination for locals and tourists alike.