ColorSource Spot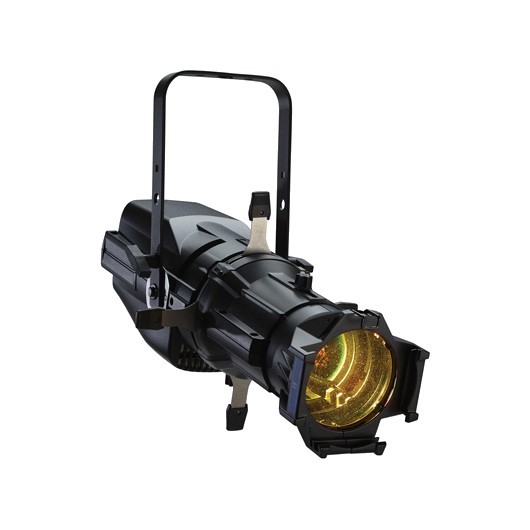 The ColorSource Spot outperforms other four-color LED profiles, thanks to its precise combination of red, green, blue and lime emitters. ETC applied its extensive color-mixing knowledge to the fixture, to ensure that it can achieve brighter, richer and more believable colors than other budget LEDs, especially in the warm end of the color spectrum. Bright, punchy, with incredible output, the ColorSource Spot is also more dependable. You don't have to worry about it fading over the course of a show, because it compensates for thermal droop to keep the color going strong.
Don't want to spend an eternity setting up and trying to figure out how to control your fixtures? The ColorSource Spot is intuitive and approachable for anyone. It works with any lighting-control desk, or it can be used console-free, so you can just plug the ColorSource Spot in, punch a couple buttons on its user interface, and be good to go. No special training or lighting experience necessary.
Want more bang for your buck? The ColorSource Spot accepts all the accessories, zoom and fixed-focus lens tubes, and CYC and Fresnel adapters that fit ETC's Source Four® LED luminaires. You get the versatility of the Source Four LED system in an affordable fixture capable of filling any role in a light rig.
The ColorSource Spot has durability you can count on. ETC manufactures each luminaire at our factory, putting it through our rigorous quality tests. And we back that up with our industry-leading, 24/7/365 technical service and customer support.
Product features
Easy-to-use, simple RGB control adds lime automatically when needed
RDM capability
Power in and thru with PowerCON connectors
DMX in and thru
Low-noise fan operation
Droop compensation for consistent output
Optically calibrated
Homogenized optics
Includes slots for glass or stainless steel patterns and soft focus diffuser
Accessory slot for motorized pattern devices or optional iris
Accepts all Source Four® LED accessories and lens tubes
Works with Source Four LED Fresnel and Source Four LED CYC adapters
Available in black, white and silver gray (custom colors also available)